TechMeetups presents #TechStartupJobs Fair New York 2013

Thursday, November 7, 2013 from 6:00 PM to 9:00 PM (EST)

New York, NY
Who's Going
Loading your connections...
Event Details
PRESENTS
World's biggest TechStartupJobs Fair is going to New York!
TechStartupJobs runs a successful job board for startups within Techmeetups' 20 global tech communities crossing 9000+ active members.
TechStartupJobs Fair has been setup to help Startups find the talent they are looking for and for talent to find their way into the hottest Startups around.
What makes this the biggest Tech Startup Job Fair?
After launching successfully in London in 2011, TechStartupJobs Fair has now been planned for 7 cities in 2013. The cities to be covered are:
:: Feb 2013 - London :: June 2013 - Berlin :: June 2013 - Malmo ::
:: Aug 2013 - Sydney :: Sep 2013 - Barcelona :: Oct 2013 - London ::
:: Oct 2013 - Singapore :: Nov 2013 - New York ::
With over 2000 attendees and a 100 startups presenting we expect over 500 jobs to be filled through TechStartupJobs Fair in the first year alone!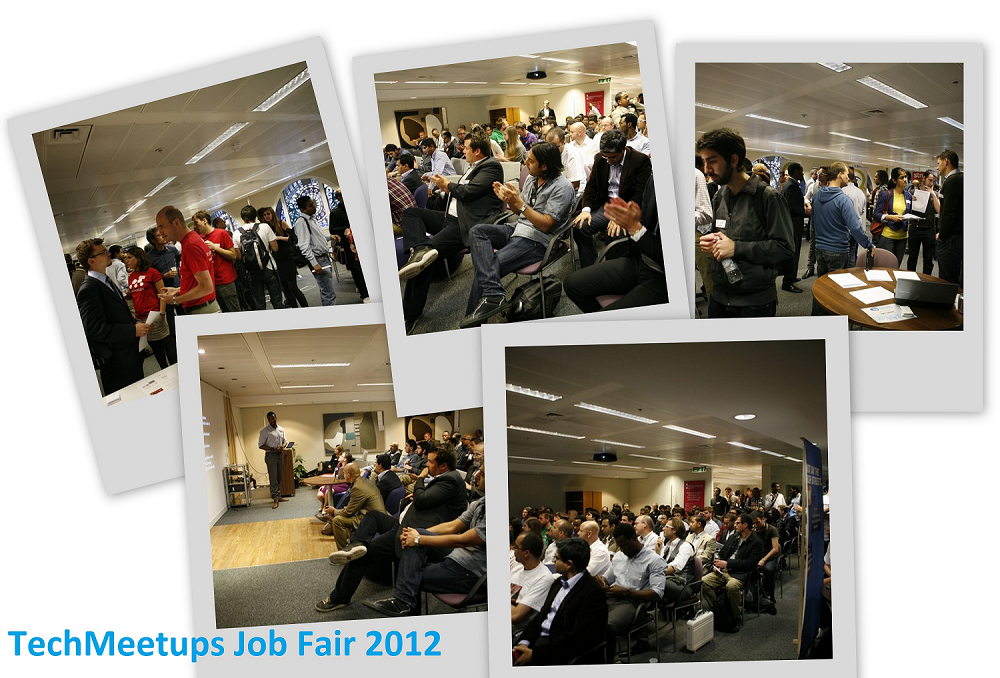 Who should attend ?
● Job Seekers - whether you've already worked in a startup or want to find out more about the exciting opportunities on offer in this scene, the TechStartupJobs Fair is the best way to connect with potential employers.
● Startups - whether you are looking for bright young graduates, seasoned pros or part-time interns, you'll gain access to hundreds if the most creative, innovative and driven job seekers in your city and around the world.
Who will you meet?
Developers, Designers, Marketers, Community Managers, Product Managers, Technical Salespeople, Business Developers and of course some of the smartest Startups around.
Why take part?
Since TechMeetups reached 24 communities this month, it will be perfect time for 8,000+ members to talk about working in startups. TechMeetups will be also running global challenges, Hackathons and competitions to rank potential candidates so you, the employer, can filter through the very best applications.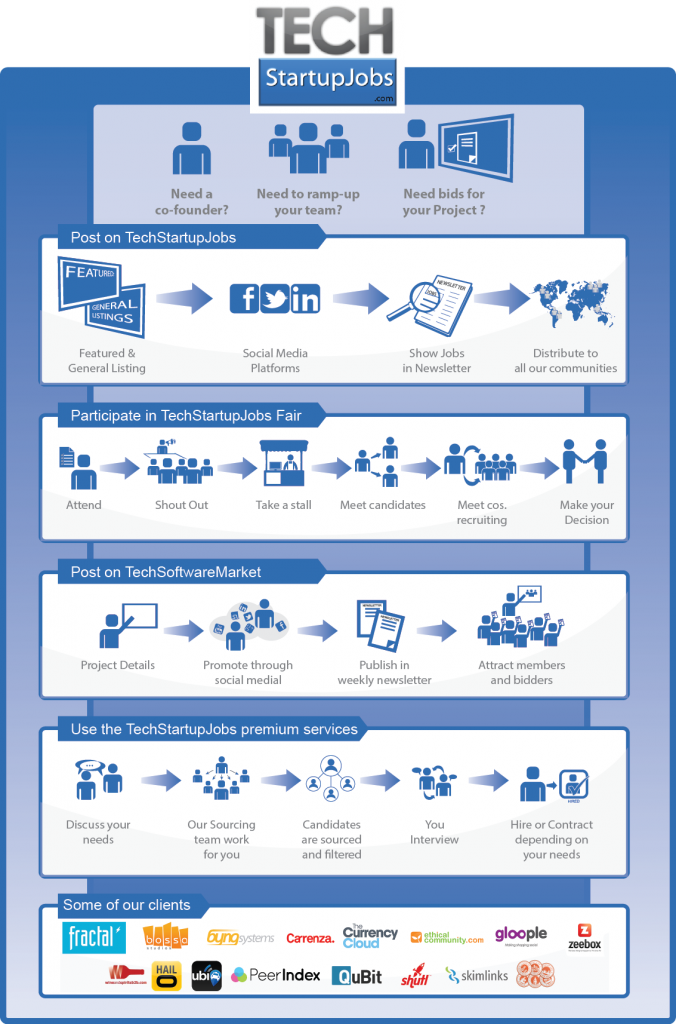 Organizer
TechMeetups.com
What is TechMeetups?

TechMeetups has been setup to create a global network of Tech communities from San Francisco to Sydney. We believe that Tech communities are isolated and great things can be achieved if we connect within our cities and outside our borders. Our goal is to create a global Tech cluster of over 50 inter-connected Tech communities by 2013.
Our global community started out with the launch of the London Silicon Roundabout Tech community in December 2010. Following it's success in becoming one of the city's fastest growing groups, we have launched TechMeetups communities in the following locations:
Europe: London, Berlin, Cambridge, Lisbon, Manchester, Paris, Budapest,Belgrade, Amsterdam, Stockholm & Barcelona
USA: New York, Dallas, Miami & San Francisco
Asia: Bangalore, Bangkok, Mumbai, Moscow, Singapore & Sydney
Others : Dubai, Rio De Janeiro & Sao Paulo 

You can see our latest list of communities here.

As part of our expansion plans we are now launching in your city. We started this group in order to bring together startups, entrepreneurs, investors, techies and webbies in and around this city.

Why become a member of TechMeetups?
Anyone who is thinking about starting their own software or web company and wants to bounce ideas off each other and meet potential partners or investors are welcome to join this group!
Our aim is to connect the various tech communities to help our members network, connect, invest and launch products in the hottest technology clusters. We plan to organise monthly meetups to cover various technology subjects that are of interest to our members.

How can you use TechMeetups to grow your company?

We are passionate about Startups & feel that Startups need all the help they can get to get off the ground. To help Startups further we launched our regular Startup Mentoring Program and listen to ideas, help with business advice and if required provide intensive hands on mentoring. This helps Startups position themselves better in the market and be more investment ready in front of our Investment Panel on 'Investor day'. Another Startup event called 'Big Business meets Startup' has been planned to bridge the gap with the Business community as we feel both groups could learn and benefit from each other.

Some of the other thing we help our community with include ….
TechStartHub helps launch your company in any of our global tech communities. From company incorporation to office space and from assembling a team to launching your product talk to us & perhaps we can be of help.
Recruiting ? Wanting to hire that perfect team. Post your jobs on TechStartupJobs and/or take part in TechStartupJobs Fair to attract the right talent to your company.
Do you have a special offer to make to the Tech / Startup community ? Post it on TechStartupDealsand we will help you promote it across your local community and if needed across our communities.